Megan Fox
Could Megan Fox's Metal-Studded Manicure Even Make It Through The TSA Line?
The Fox-ification of the French manicure is one of the most under-appreciated beauty phenomenons of the past few years. Through the sheer power of her personal style alone, Megan Fox's looks ascend far beyond just cool nail art — she manages to totally transform even the most timeless shapes and styles into something completely distinct. And just when you thought you've seen every variation on the mani possible, Fox's studded nails breathe new life into the French tip trend. With all those festive holiday parties underway, the timing for this latest dose of inspiration truly couldn't be better.
In a brilliant move, the cherry-red tips of Fox's tapered, square-shape nails are a perfect match to her just-dyed bob. Together, the arresting shade served as the only pops of color in her white-on-white outfit at GQ's Man Of The Year celebration. As she posed in her gauzy gown, even a hand on her hip offered enough color contrast to draw eyes straight down to the metal-studded manicure. Designed by Fox's go-to artist, Brittney Boyce, the nails start off rather straightforward. There's the streamlined square tips and a soft, glossy, nude base. The bright red polish arcs over the top half of each fingertip, then flat-back gunmetal beads are affixed all over. Boyce kept the studs concentrated exclusively on the red, which helps amplify its punk-rock appeal.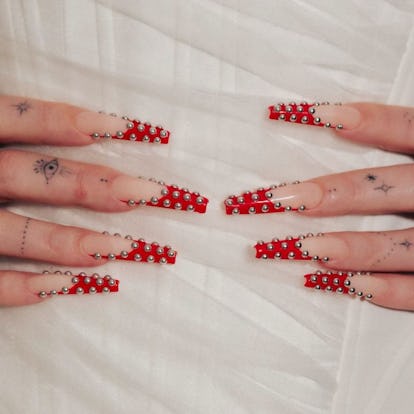 In fact, between the zesty red color of her nails and the snow, ethereal white of her gown, Fox's nails almost feel like an extremely edgy take on a festive Christmas-themed manicure — it's kind of giving punk-rock candy cane, no? "To counter Megan's structured, cream dress for GQ Man of the Year [party], I created an elevated version of the classic French with an edgy twist," Boyce says in press materials, describing her creative thought process. "The silver accents added dimension and took the French to the next level."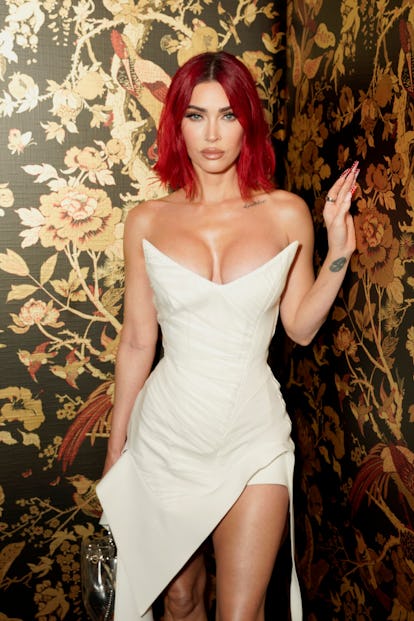 Fortunately for fans, Fox's nail artist is always generous about sharing exactly which tools and products she used to get the look. The tips were made with CND's PLEXIGEL Builder, then covered in the brand's Shellac polish line. There's Uncovered (that's her neutral, natural-looking shade of nude) and the appropriately-named Devil Red for the ends. From there, it was just a matter of configuring those silver beads and then curing the entire manicure for stay-all-day shine and adhesion.
For the edgier ones out there — and if you're a fan of Fox, you probably do love to experiment with aesthetics — consider recreating the look yourself. It's holiday elegance with a red-hot remix.