Keanu Reeves
John Wick 5 release date speculation, cast, plot, and more news
Things looked bleak for Keanu Reeves' assassin at the end of John Wick 4, but the future is coming. Here's what we know about the John Wick 5 release date.
What is the John Wick season 5 release date? Since 2014, John Wick has stolen hearts with his sharp one-liners and even sharper shooting. We've been watching John punch, jump, kick, shoot, and explode his way through the criminal underworld for a decade now, and the world just keeps expanding.
In John Wick 4, there was plenty of violence as bodies fell in a hail of bullets across the John Wick cast. It was certainly one of the best action movies of 2023, delivering an epic and operatic conclusion to John's war with the High Table. So, despite the John Wick 4 ending seemingly bringing the John Wick movies to a definitive end, fans want to know if new movies are still a possibility.
Well, The Digital Fix certainly believes that a follow-up to some of the best Keanu Reeves movies is bound to come, and we've paid a visit to The Continental to see what we can find out about the John Wick 5 release date. We're thinking he's back.
John Wick 5 release date speculation
We know that John Wick 5 is in active development, but we think it will be at least 2026 before we get to see Keanu Reeves unleashing chaos again.
Joe Drake, chair of Lionsgate's motion picture group, confirmed shortly after the latest movie that John Wick 5 was in development, as well as upcoming spin-offs on the Ballerina release date and The Continental release date. Great news for John Wick fans, since it looks like the franchise shows no signs of slowing down.
In fact, Wick director Chad Stahelski even confessed that an original version of the John Wick 4 ending made it clear that John had actually survived the final conflict. Reeves however had wanted the character clearly killed off, but we all know that Hollywood doesn't work that way. The star has his own experience of belated revival from the dead with The Matrix Resurrections, and that didn't go very well at all.
Of course, the 2023 Writers Strike means that there won't have been any forward momentum on John Wick 5 in recent months. The best movies in this franchise are tough nuts to crack, so we think 2026 is the earliest realistic return for Mr Wick.
John Wick 5 cast speculation
There's no John Wick without John Wick, right? We fully expect the mighty Keanu Reeves to return to lead the John Wick 5 cast. 
Although John died in the fourth movie, we are positive that Keanu Reeves will appear, whether he's the true lead or simply a cameo.
If it takes place after the events of the last movie, we'd probably see the star as a flashback, unless he managed to survive the ending somehow. And if John Wick 5 is a prequel, we'd likely see Reeves in a scene or two during the moment when he retired from the criminal organization to get married.
This same principle would apply to all the staple John Wick cast, such as Ian McShane as Winston and Laurence Fishburne as Bowery King.  Unfortunately, Lance Reddick won't reprise his role as Charon, as the talented actor passed away in 2023 from natural causes at the age of 60.
The John Wick 4 post-credit scene also hinted at a future storyline for Rina Sawayama as Akira. She was a terrific addition to the franchise for the newest movie, so we can't wait to see her kicking ass and wielding weapons again.
Here's the expected John Wick 5 cast list:
Keanu Reeves as John Wick
Ian McShane as Winston
Laurence Fishburne as Bowery King
Bridget Moynahan as John's Wife
Rina Sawayama as Shimazu Akira
Natalia Tena as Katia

What will John Wick 5 be about?
We think the John Wick 5 plot is likely to delve further into John's childhood and his connection with Winston via the criminal group known as the Ruska Romas.
After the events of John Wick: Chapter 4, we still don't know John's full childhood story. Yes, he is an orphan, but how did he wind up in a criminal family, and most importantly – how, with his assassin lifestyle – did he meet and end up marrying his late wife?
At the end of John Wick 4, we were still left with a massive cliffhanger. We saw that Winston had a tattoo of the same criminal group that recruited John, the Ruska Romas. The tattoo also appeared briefly in the tracker Mr. Nobody's notebook while he was looking for John, so we know it's significant.
Oh, and finally, Winston called John "son" as he left the grave site in John Wick 4. You can't just drop a massive connection like that without giving us an explanation, right? Did Winston train with John, is he actually his father? We need answers – and we need them now in some sort of prequel movie. The John Wick comic book mini-series already has a storyline on John's childhood, just waiting to be adapted for the big screen.
Is there a John Wick 5 trailer?
There's no John Wick 5 trailer yet and sadly, we expect it to be a long time before we get a glimpse of the latest installment of the franchise.
In the meantime, remind yourself of all the glorious action to be had in the below clip from John Wick 4. In it, John takes on Caine in an enthralling combat scene.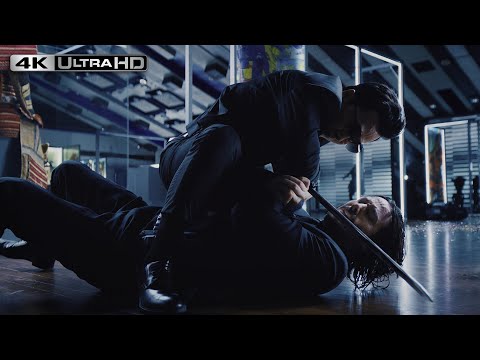 Where can I watch John Wick 5?
The John Wick movies have never shied away from big theatrical releases, so we think John Wick 5 would arrive in the same style. Most of the movies in the franchise end up on the best streaming services at one point or another, but why not get your fill and head to the theater to catch the stunts as they were meant to be seen?
For more on Wick, you can read our John Wick 4 review and learn about everyone who dies in John Wick 4, as well as how John Wick 4's most important scene almost didn't happen. We've also got a feature breaking down the art of the Keanu Reeves one-liner.
If that's still not enough, find out about the best TV series for action lovers in the coming months, including the Dune 2 release date, Deadpool 3, and Reacher season 2.