Scarlett Johansson
Scarlett Johansson Pictures From 1998 Are Compared With Pictures From 2023 As The Internet Asks If She Has 'Good Genes' Or 'Good Docs'
Scarlett Johansson, 38, has been regarded as one of the most beautiful women in Hollywood since the start of her career – with many fans actually thinking that she is getting even more gorgeous by the day!
This idea that the Black Widow star was looking better by the day was proven when we saw a picture of a fresh-faced Scarlett when her career was really taking off back in 1998 compared with a picture of her over the last few years. We think you'll agree that, despite always being a natural beauty, which is more than evident in the older picture, the Marriage Story star is looking better than ever, which poses the question: has she had some help along the way?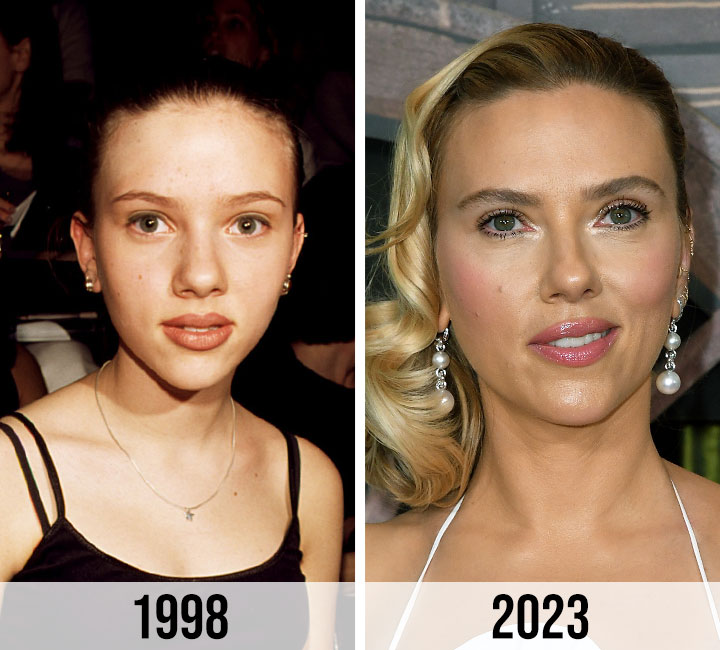 Splash News/Shutterstock
Scarlett Johansson In 1998 Vs 2023
The change in the Asteroid City actress's appearance was brought to our attention after seeing a 2021 post from TMZ which compared a picture of Scarlett in 1998 at the *very* start of her career with a picture of her in 2021. Scarlett was smiling in both of the pictures and looked incredible in both – with no real difference in terms of beauty in the older and more recent pictures! This inspired us to compile our very own before and after picture, using a picture from her early career in 1998 to 2023, just to make the comparison as up-to-date as possible. We see very little difference in her appearance in our comparison pictures. ScarJo's big, expressive eyes look exactly the same as they did 25 years ago, as do her voluminous lips, which suggests that they are as natural as can be and her plump pout is *not* due to cosmetic surgery!
TMZ asked the question whether the Sing 2 actress's transition from fresh-faced beauty to ageless Hollywood beauty was down to good genes or good docs – and for what it's worth, the results in the poll were very much leaning towards the good genes idea, as most fans didn't think that she had much work done to contribute to her naturally gorgeous appearance. (At the time of writing, good genes got 66% of the votes, while good docs got 34%.)
Fan Comments
When TMZ asked fans on Twitter whether they thought the Jojo Rabbit actress had good genes or good docs, they didn't hesitate to give their opinions in the comments section. "Excellent genes," one fan said, as another chimed in, "Good genes or really good makeup." Another agreed that perhaps she had simply gotten a better glam squad over the years, writing, "Good makeup," followed by the lipstick emoji.
A few others *did* think that she had "good docs" to help with her recent appearance, with another fan commenting with a syringe emoji to suggest that they thought she had some cosmetic work done. Many others thought it was a combination of the two, with one simply writing, "Both," and another adding, "Good everything." And then of course there were the fans who thought she looked gorgeous in both pictures, regardless of what she may or may not have had done, with one writing, "She is beautiful in both pics." No arguments there!