Kim Kardashian
Kim Kardashian Meets Up With Victoria Beckham in a Fanny Pack
While much of America was absorbed in Barbie vs. Oppenheimer on Friday night, Kim Kardashian and Victoria Beckham were in a suburb of Fort Lauderdale, Florida taking in a soccer match between Inter Miami FC and Cruz Azul. It wasn't just any old soccer game, however. It was the first game in which the Miami team, owned by Posh's husband David Beckham, played after welcoming international legend Lionel Messi to the roster. It's a huge moment for professional soccer in America, we're told, but given that this is simply W and not ESPNW, we're more interested in the meeting of two of America and Britain's foremost style icons.
Posh kept it simple and chic, opting for a simple black jumpsuit with details that were decidedly on trend (see: the sly cut-out under the bust line and the wide-cut pants).
Kardashian, meanwhile, opted for her take on the world's simplest outfit: a white t-shirt and jeans. Of course Kim's tee was cropped, and her jeans artfully distressed, but the obvious style headline here is the reality queen's continued devotion to the designer fanny pack.
Kim managed to make headlines earlier in the summer by showing up to Pharrell William's debut show as the new mens artistic director of Louis Vuitton in a rather largely proportioned and decidedly furry fanny pack. This time, her accessory was a bit smaller in size, but equally impressive in prestige. She opted for a tiny hot pink Chanel belt bag looped around her hips.
It was nearly impossible to wear hot pink Chanel this weekend without drawing comparisons to Barbie, considering so much of Margot Robbie's wardrobe in the film is pink Chanel. Though, Kim likely chose pink for completely different reasons. Inter Miami CF happens to be the only professional mens sports team in North America with pink as a team color. It would be rude not to show a bit of spirit.
While Kim and Victoria have crossed paths previously, the pair seem to have become closer friends ever since the Beckhams relocated to Miami. That's probably thanks to their shared friendship with Miami club king David Grutman. He's been in the Kardashian's inner-circle for years, but has also become close with the Beckhams in recent years. Indeed, his wife Isabela Grutman now appears to be Posh's new Florida-based BFF.
It seems Kardashian didn't take the opportunity to allow her pink Chanel to pull double duty by heading to a screening of Barbie directly after. Instead she changed into an all-black outfit to head down to Miami Beach to party at Grutman's flagship club LIV.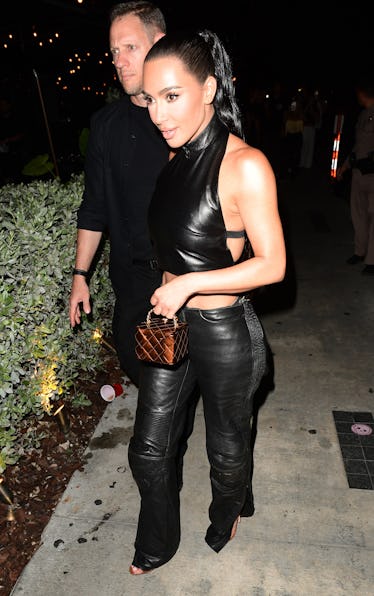 This article was originally published on