Anne Hathaway
How Barbiecore turned the world hot pink
Why do some trends take off? When it comes to Barbiecore, there's more to the story than Margot Robbie.
For Bernadette Olivier, Barbiecore – fashion shorthand for the popularity of hot pink, high ponytails and fit-and-flare dresses, among other things – didn't begin with Margot Robbie sharing the first on-set shots of the Greta Gerwig-directed Barbie movie back in June 2022.
Olivier, co-founder of peer-to-peer clothing rental platform The Volte, instead pinpoints an appearance by Anne Hathaway at Valentino's couture show on July 8, 2022, as the moment the trend really took off.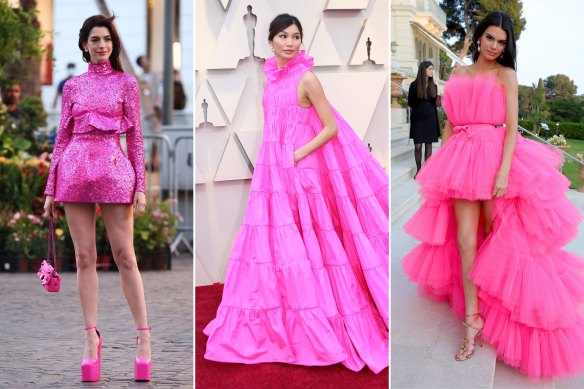 "That micro mini magenta dress [Hathaway wore] was amazing," Olivier says. "It was permission to wear hot pink, and the Barbiecore hype has just added more fuel to the pink fire."
The thing about trends is that they are easier to spot in hindsight. So, while Olivier drops her pin in Hathaway, others credit this wave to Gemma Chan in Valentino at the 2019 Oscars, years before Barbie was even announced.
Others cite Valentino designer Pierpaolo Piccioli's all-pink ready-to-wear show in March 2022, or – taking it further back – credit Moschino's ode to Barbie in 2014 as the moment that started it all.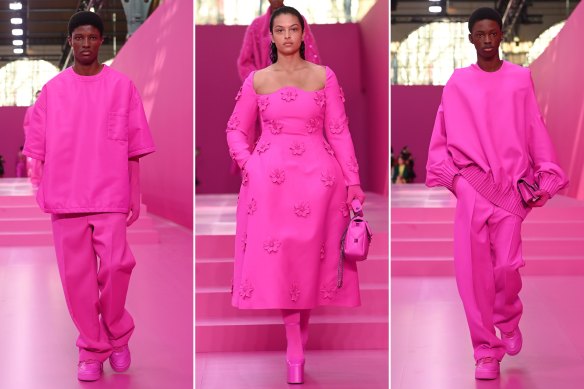 Trend forecaster WGSN's head of womenswear Sarah Maggioni says that while Valentino's influence is clear, other brands including Loewe, Jacquemus and Balenciaga have contributed to the movement. As a result, in 2020, the forecaster predicted that "orchid flower" would be the colour of 2022. (Pantone would go on to name Viva Magenta its colour of 2023.)
"[This colour] has an energising quality, it's fun, it's bold, yet, it has a familiarity to it, it's not 'scary' and inaccessible like other vibrant shades," she says. "'Millennial Pink' paved the way for it and adjusted the consumer's eye to this colour level, across genders too … Pink is also generally a good seller and can suit many different skin tones and demographics."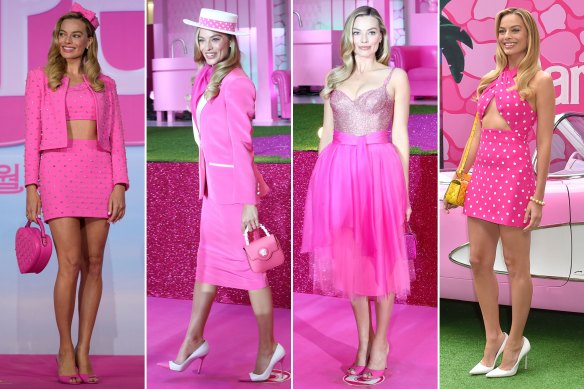 As the memorable cerulean blue scene in The Devil Wears Prada proved (Meryl Streep, playing a fearsome magazine editor, gives Anne Hathaway's character a dressing down over the fashion cycle) it takes time for trends to trickle from high fashion to the high street.
According to Google, searches for "Barbie fashion" and related terms, such as "Barbie dress" or "pink dress" are at a 15-year high in Australia. Data shows searches for "Barbiecore" spiked in July and November 2022, and again in July 2023, and global trend forecaster Lyst named Barbiecore as the top trend of 2022.
The other thing about trends is that once you're thinking about them, they are seemingly everywhere.
At The Volte, hot pink dresses, led by a strapless mini from the collaboration between Giambattista Valli and H&M, which was modelled by Kendall Jenner in the south of France in May 2019 and rents for $190, have been performing strongly. Olivier thinks Barbiecore, specifically its interest in hot pink, has come at a time when people are still seeking fun, post pandemic – though, notably, it's co-existing with "stealth wealth", its aesthetic antithesis.
"You're not going to wear pink sequins to the office but if there's an occasion to go bold, why wouldn't you?" she says.
The other thing about trends is that once you're thinking about them, they are seemingly everywhere; a psychological phenomenon known as the Baader-Meinhof phenomenon or frequency illusion. And that makes us feel comfortable, even safe, says Dr Carolyn Mair, cognitive psychologist and author of the Psychology of Fashion. "Trends feed our psychological need for both novelty and belonging, as they can motivate us to experience something different from the status quo, while simultaneously allowing us to fit in," she says.
WGSN's Sarah Maggioni says the Barbiecore aesthetic also allows people, specifically women, a way to reframe the so-called "bimbo aesthetic". University of Adelaide lecturer Dr Jessica Ford agrees: "We assume the women participating in Barbiecore are doing so unknowingly, which is misleading – but it's a provocation, it's saying, 'Hey, I am dressed head to toe in pink, and I challenge you to take me seriously.'"
Barbiecore's appeal is also amplified by tapping into nostalgia, offering an "escape from the mundane realities and responsibilities of adulthood", says Mair. And it's a trend people can cherry-pick when shopping for different fashion, decor and beauty items, which makes it accessible across ages, social and cultural demographics, says Dr Lauren Rosewarne, a pop culture expert at the University of Melbourne.
"We don't take the pink power suit in its entirety because it becomes costume," she says. "The [Barbie-branded] hair straightener is a good example. Why not have a pink, fun one? What's the harm?"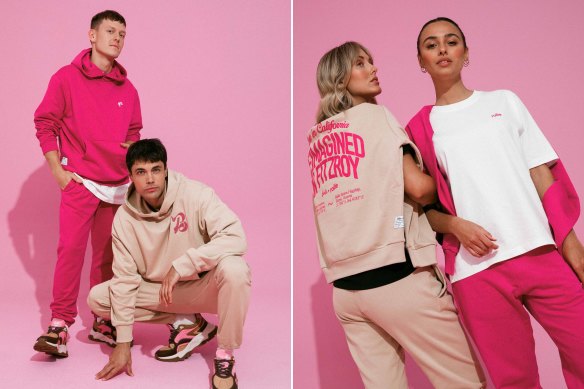 Finding that sweet spot between nostalgia and modernity was key to Australian label Review's 16-piece Barbie collection, which leans heavily into the mid-century aesthetic, says the brand's general manager Clare Hurley. "Doing collaborations with revenue as a primary goal isn't the right approach … it has to be relevant to our customers and stay true to the core of the brand."
Still, not every brand that's worked with Barbie's owner, Mattel, on a collaboration has received universal praise. Melbourne-based shoe brand Rollie, for example, encountered social media backlash from some of its customers after releasing its unisex capsule collection, which includes the brand's first foray into apparel. Founder Vince Lebon says some people were disappointed the brand hadn't made an all-pink shoe, for example. But he says that would have been too obvious. "Creating the unexpected is the right way to do a collaboration. We wanted to depict what Barbie is today and not feel confined to the past."