Megan Fox
Megan Fox Asks Machine Gun Kelly to "Get Me Pregnant"
Megan Fox told Machine Gun Kelly he has two options: "Kill me or get me pregnant." Read her message to her "devastatingly handsome" fiancé.
Megan Fox's latest request is emo-girl approved.
The Jennifer's Body actress recently took to Machine Gun Kelly's Instagram comment section to show her fiancé some love—and to pitch the idea of making a baby.
"Never has anyone with better bone structure walked this earth," Megan wrote under MGK's Oct. 26 Instagram post. "Exquisitely, devastatingly handsome. And 6 foot 5? Kill me or get me pregnant. Those are the only options."
Megan's thumb-stopping message was placed under a snap of MGK at the TIME 100 Next Gala in New York City on Oct. 25. For that event, MGK, real name Colson Baker, sported a sheer body corset paired with black patent leather pants. Meanwhile, Megan wore a gold Maison Yeya gown.
Megan's nod towards expanding their family comes after Machine Gun Kelly turned heads at the 2022 Billboard Music Awards, when halfway through his performance of a song, he announced, "this is for our unborn child."
Machine Gun Kelly and Megan Fox Celebrate Her 36th Birthday
It seems Megan, who got engaged to MGK in January, has babies on the brain—in more ways than you'd think. In an exclusive July interview with E! News, the 36-year-old shared that she once inquired about MGK's own experience as a baby by asking, "Were you breastfed by your mother?"
Now, there's a reason for this. Megan explained that it's a "great question" to ask because it can tell you a lot about someone. "It has a lot to do with your psychology and your temperament," she said. "So I ask things like that."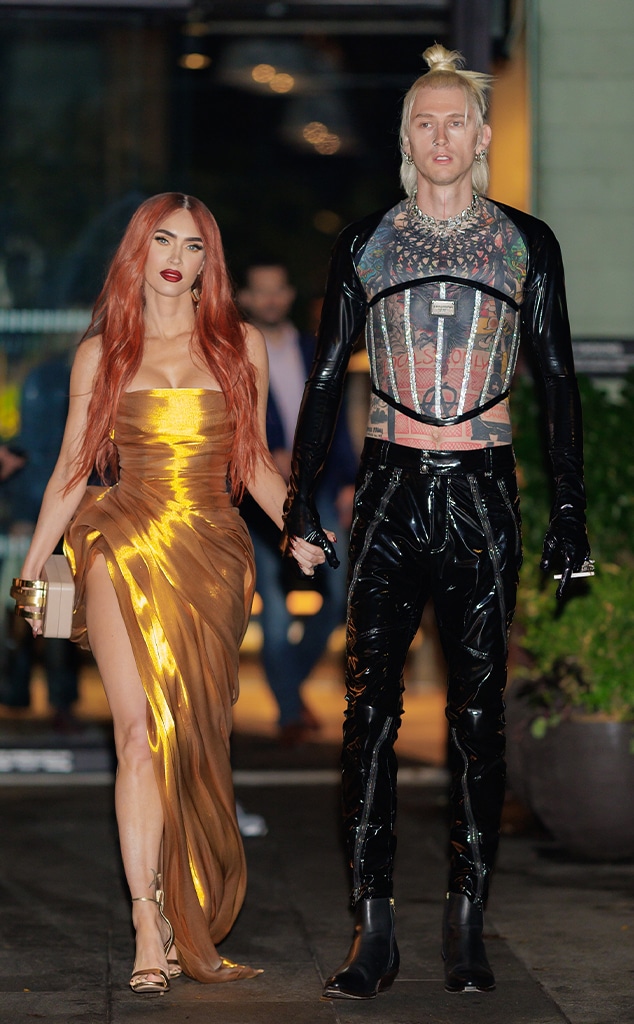 THE HAPA BLONDE/GC Images
For Megan, it's important that questions "go deep right away" so she can absorb more information about a person.
"If you know me and I know you," she said, "it's impossible for me to not know almost everything about you."