Kylie Jenner
Kylie Jenner reportedly splurged $188 million in the past year despite Forbes' claims she's not a billionaire
Kylie Jenner has reportedly blown more than US$100 million (approx. $188 million) in the months before Forbes magazine stripped the star of her billionaire title.
In April, the Kylie Cosmetics founder splurged on a US$36.5 million ($53 million) mansion in the affluent LA neighbourhood of Holmby Hills, and in May she shelled out another US$15 million ($22 million) on an empty lot in Hidden Hills.
In March, 22-year-old Kylie snapped up land located at the exclusive Madison Club in Palm Springs, which sits near her mum Kris Jenner's plush estate. This purchase set Kylie back US$3.25 million ($4.7 million).
In February just before the COVID-19 pandemic hit, Jenner reportedly bought a Global Express Jet, which can range anywhere between US$50 million and US$70 million ($72 million and $101 million).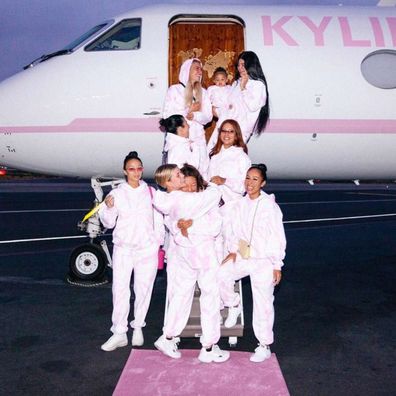 Kylie's spending spree came just before Forbes magazine alleged that her Kylie Cosmetics brand "is significantly smaller, and less profitable" than the family led the magazine to believe.
Forbes put Kylie on the cover back in May 2019 and dubbed her "the world's youngest self-made billionaire", only for them to revoke her status after they claimed Kylie's team lied about her business' profits and allegedly forged tax returns.
Billionaire or not, Kylie is still worth a reported US$900 million (approx. $1.3 billion), and can afford the luxury homes and jet she recently bought. However, her sisters — who Kylie gifted expensive crystal clutches for Mother's Day — are reportedly worried about her spending.
"Kylie's sisters are concerned about her spending. Yes, she's got a lot of money — but she doesn't seem to realise how easy it is to blow through all of it," a source told Page Six. "She's likely spent over $130 million ($188 million) in the past year."