Keanu Reeves
Here's What Keanu Reeves Eats When Training For Action Movies
Mysterious, elusive, and endlessly fascinating, Keanu Reeves is a Hollywood megastar who seems to be getting better with age. Most may not know it, but this hardworking actor was actually born in 1964, in Beirut, Lebanon, although he was raised in Toronto, Canada, and New York City as a child. In the years that followed, Reeves managed to carve out an impressive career, starring in blockbuster hits such as "Speed," the successful "John Wick" movies, and perhaps most notably, as Neo in the "Matrix" movies and their ongoing sequels (via Biography).
Being an action-movie hero undoubtedly comes with its advantages, but there are additional sacrifices that have to be made to keep his body in tip-top shape for upcoming projects. Here's everything you need to know about what Reeves eats when training for new movies, and some of the challenges he faces now that he is doing this in his 50s.
Diet and exercise regime with a protein-packed favorite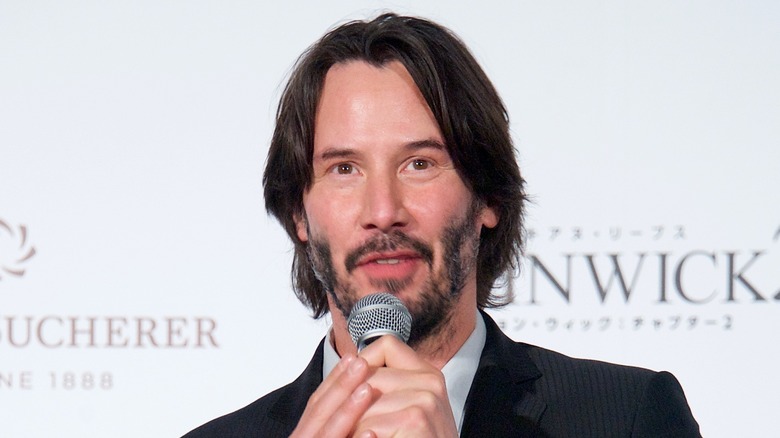 Keanu Reeves readily admits that he was not always a fitness buff, and reveled in an interview with Men's Journal that it was not until he made the movie "Point Break" in the 1990s with Patrick Swayze that he began to take training seriously. It was then that he met Denise Snyder, who still works with him as a fitness trainer after all these years.
His training diet generally consists of low sodium and low-fat options, but he has a weakness for steak, especially right before a "big fight sequence." His preference? A juicy New York Strip with a bit of well-rendered fat. While he's not blowing off his exercise regime, he admits that his recovery period takes longer and that he feels the wear and tear on his knees more readily. "I can't do stairs as fast," shared Reeves, "But if you say 'action,' I'll go." Well, no matter where he goes, we are sure all of his fans will be right there supporting him no matter what the future has in store.