Megan Fox
Machine Gun Kelly Reveals He Only Took 'Midnight in the Switchgrass' Role to Meet Megan Fox
Machine Gun Kelly and Megan Fox got together while working on the 2021 film Midnight and the Switchgrass and have been practically inseparable ever since. The musician recently revealed that he only took his small part in the film so he could get closer to Fox. Here's what Machine Gun Kelly said about working with Fox on the movie he referred to as trash. 
Machine Gun Kelly said he only acted in the movie 'Midnight in the Switchgrass' because his scene was with Megan Fox
The musician opened up to Drew Barrymore on the Dec. 10 episode of "The Drew Barrymore Show." He painted her fingernails using his new brand of genderless nail polish, UN/DN LAQR, while talking about his relationship.
The musician explained how he got to know Fox in the spring of 2020 while working on Midnight in the Switchgrass.
"We were filming a movie which ironically the only reason I took the movie was because they were like, 'Your scene's with Megan Fox,' and I was like, 'I'll take the movie,'" Machine Gun Kelly said.
He admitted that he used to wait outside Fox's trailer, hoping to run into her. "My gut is always right and I'm grateful for it," he said. "For some reason I knew she would invite me for lunch."
Machine Gun Kelly shared how his intuition about Fox was validated. "Then, all of a sudden, someone came over and was like, 'Megan wants to know if you want to have lunch in her trailer.' And I was like, 'Oh my god, I'm so surprised. Yeah, absolutely.'"
Machine Gun Kelly previously slammed 'Midnight in the Switchgrass' and called it trash
Although Megan Fox and Machine Gun Kelly's high-profile relationship started on the set of Midnight in the Switchgrass, neither star attended the movie's premiere.
The musician also bashed the film on July 5 during an Instagram Live (per Us Weekly). "I'm an actor in a film. That means I don't name s***," Kelly said in the video. "I don't have anything to do with production. I'm not the director and it's not my film. I'm just the actor. I would never act in something that I didn't believe in except…"
Fox could be heard interrupting her boyfriend from offscreen, laughing, "Don't do that."
And on July 23, MGK tweeted, "if i don't talk or tweet about a movie i'm barely in it's because it's 🚮"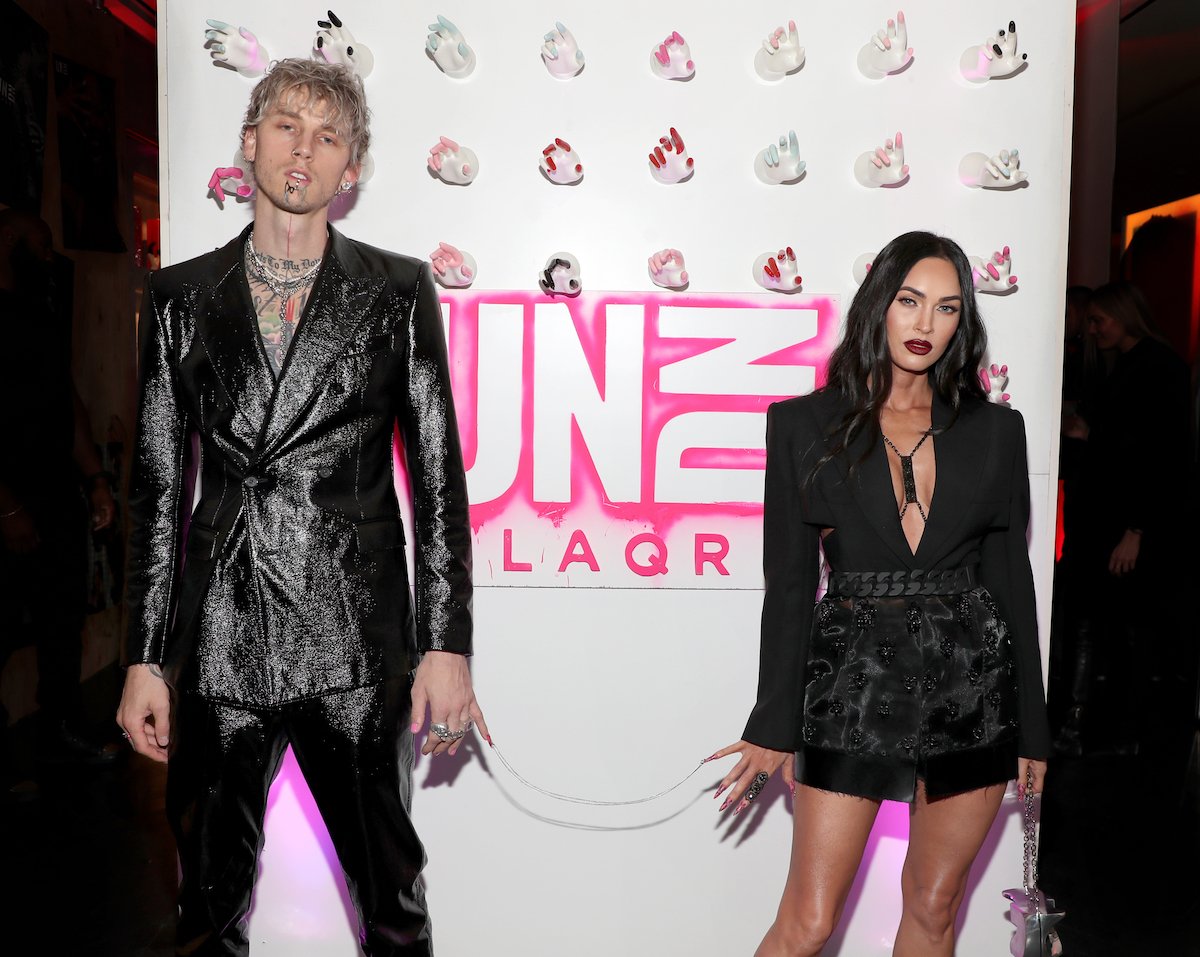 The musician met Megan Fox years before filming the movie with her
Although they didn't get to know each other until working on Midnight in the Switchgrass, Machine Gun Kelly and Megan Fox actually met a few years prior at a GQ party in Los Angeles.
"This weird thing happened," Fox told British GQ of meeting the musician for the first time. "We didn't see each other." She turned to Machine Kelly during the interview and asked him, "Do you remember [seeing] my face?"
"That's what's crazy, I don't," he replied. "I don't remember your face."
Fox continued, "I don't remember your face, and I definitely would have remembered his face. I just remember this tall, blond, ghostly creature, and I looked up, and I was like, 'You smell like weed.' He looked down at me, and he was like, 'I am weed.' Then, I swear to God, he disappeared like a ninja in a smoke bomb."
When they met again on the set of Midnight in the Switchgrass, Fox reminded Machine Gun Kelly of their previous encounter. He texted Fox later, repeating his first words to her: "I am weed."